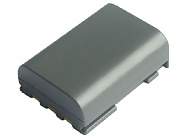 Click to enlarge
Item:

BP-2L5 NB-2LH 1100mAh Canon DC301 DC310 DC320 DC330 DC410 Elura MV Optura Powershot G7 G9 S30 S40 S45 S50 S60 S70 S80 HFR10 HFR11 HFR100 HG10 HV20 HV30 Battery
Part Number:
Canon BP-2L5, BP-2LH, NB-2L, NB-2LH, NB-2JH
EPM Code:
Canon.NB.2L.battery
Dimensions:
45.00x33.30x16.00 mm
Warranty:
Meets or exceeds OEM specifications and performance backed by 1 year replacement warranty
Compatible model list:
Canon DC301
Canon DC310
Canon DC320
Canon DC330
Canon DC410
Canon DC420
Canon Digital Rebel XTi
Canon Elura 40MC
Canon Elura 50
Canon Elura 60
Canon Elura 65
Canon Elura 70
Canon Elura 80
Canon Elura 85
Canon Elura 90
Canon EOS 350D
Canon EOS 400D
Canon EOS Digital Rebel XT
Canon EOS Digital Rebel XTi
Canon EOS Kiss Digital N
Canon EOS Kiss Digital X
Canon FV500
Canon FVM100
Canon FVM20
Canon FVM200
Canon FVM30
Canon HG10
Canon HV20
Canon HV30
Canon iVIS DC300
Canon iVIS HF R11
Canon iVIS HG10
Canon iVIS HV20
Canon iVIS HV30
Canon IXY DV3
Canon IXY DV5
Canon IXY DVM3
Canon LEGRIA HF R16
Canon LEGRIA HF R17
Canon LEGRIA HF R18
Canon MD100
Canon MD101
Canon MD110
Canon MD111
Canon MD120
Canon MD130
Canon MD140
Canon MD150
Canon MD160
Canon MD215
Canon MD225
Canon MD235
Canon MD245
Canon MD255
Canon MD265
Canon MV5
Canon MV5i
Canon MV5iMC
Canon MV6iMC
Canon MV790
Canon MV800
Canon MV800i
Canon MV830
Canon MV830i
Canon MV850i
Canon MV880X
Canon MV880Xi
Canon MV890
Canon MV900
Canon MV901
Canon MV920
Canon MV930
Canon MV940
Canon MV950
Canon MV960
Canon MVX200
Canon MVX200i
Canon MVX20i
Canon MVX250i
Canon MVX25i
Canon MVX300
Canon MVX30i
Canon MVX330i
Canon MVX350i
Canon MVX35i
Canon MVX40
Canon MVX40i
Canon MVX45i
Canon Optura 30
Canon Optura 40
Canon Optura 400
Canon Optura 50
Canon Optura 500
Canon Optura 60
Canon PC1018
Canon PowerShot G7
Canon PowerShot G-7
Canon PowerShot G9
Canon PowerShot G-9
Canon PowerShot S30
Canon PowerShot S40
Canon PowerShot S45
Canon PowerShot S50
Canon PowerShot S60
Canon PowerShot S70
Canon PowerShot S80
Canon VIXIA HF R10
Canon VIXIA HF R10A
Canon VIXIA HF R11
Canon VIXIA HF R100
Canon VIXIA HFR10
Canon VIXIA HFR100
Canon VIXIA HFR11
Canon VIXIA HG10
Canon VIXIA HV20
Canon VIXIA HV30
Canon ZR100
Canon ZR200
Canon ZR300
Canon ZR400
Canon ZR500
Canon ZR600
Canon ZR700
Canon ZR800
Canon ZR830
Canon ZR850
Canon ZR900
Canon ZR930
Canon ZR950
Canon ZR960
Ask a question about this product:
End user clicks here to see more product information from EPM online dealer directly.
Reseller clicks here to request more product information from EPM Battery & Charger Wholesale.
BP-2L5 NB-2LH 1100mAh Canon DC301 DC310 DC320 DC330 DC410 Elura MV Optura Powershot G7 G9 S30 S40 S45 S50 S60 S70 S80 HFR10 HFR11 HFR100 HG10 HV20 HV30 Battery Wholesale, it replaces Canon BP-2L5, BP-2LH, NB-2L, NB-2LH, NB-2JH.
Related Items:

BP-2L5 BP-2L12 NB-2L CB-2LT CBC-NB2 Canon Vixia HFR10 HFR11 HFR100 HG10 HV20 HV30 Battery Charger
. Replaces Canon BP-2L12, BP-2L13, BP-2L14, BP-2L18, BP-2L24H, BP-2L5, NB-2L, NB-2LH, NB-2L12, NB-2L14, CB-2LT Replacement, CB-2LTE Replacement, CB-2LW Replacement, CB-2LWE Replacement, CBC-NB2 Replacement.