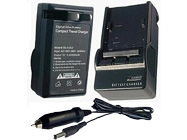 Click to enlarge
Item:

EN-EL10 MH-63 Nikon Coolpix S200 S202 S203 S205 S210 S220 S230 S500 S510 S520 S570 S600 S60 S80 S700 S3000 S4000 S5100 Battery Charger
Part Number:
Nikon EN-EL10, MH-63 Replacement, MH63 Replacement
EPM Code:
Nikon.EN.EL10.AC.charger
Specs

Slim, lightweight, and stylishly designed mini rapid travel charger plugs directly into AC wall outlet and charges your digital camera or camcorder batteries in approximately 60-90 minutes.
Its unique flat pin, foldable design allows easy storage and makes it the most compact battery charger on the market.
The kit includes a 110-240V AC power source and a DC car adapter for charging while driving.
Smart charging LED indicator automatically turns to trickle charge after fully charged.
Auto switching power voltage from 110V-240V AC.
Constant voltage and current charging.
Output short circuit and electronic shock protection.
Warranty:
Meets or exceeds OEM specifications and performance backed by 1 year replacement warranty
Compatible model list:
Nikon Coolpix S200
Nikon Coolpix S202
Nikon Coolpix S203
Nikon Coolpix S205
Nikon Coolpix S210
Nikon Coolpix S220
Nikon Coolpix S225
Nikon Coolpix S230
Nikon Coolpix S3000
Nikon Coolpix S4000
Nikon Coolpix S500
Nikon Coolpix S510
Nikon Coolpix S5100
Nikon Coolpix S520
Nikon Coolpix S570
Nikon Coolpix S60
Nikon Coolpix S600
Nikon Coolpix S700
Nikon Coolpix S80
Ask a question about this product:
End user clicks here to see more product information from EPM online dealer directly.
Reseller clicks here to request more product information from EPM Battery & Charger Wholesale.
EN-EL10 MH-63 Nikon Coolpix S200 S202 S203 S205 S210 S220 S230 S500 S510 S520 S570 S600 S60 S80 S700 S3000 S4000 S5100 Battery Charger Wholesale, it replaces Nikon EN-EL10, MH-63 Replacement, MH63 Replacement.