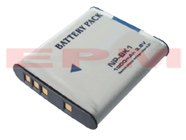 Click to enlarge
Item:

NP-BK1 1000mAh Sony CyberShot DSC-W180 DSC-W190 DSC-S750 DSC-S780 DSC-S950 DSC-980 MHS-PM1 Battery
Part Number:
Sony NP-BK1, NP-FK1
EPM Code:
Sony.NP.BK1.battery
Dimensions:
40.10x34.10x6.80mm
Warranty:
Meets or exceeds OEM specifications and performance backed by 1 year replacement warranty
Compatible model list:
Sony DSC-W180
Sony DSC-W180/S
Sony DSC-W180/R
Sony DSC-W180/B
Sony DSC-W190
Sony DSC-W190/S
Sony DSC-W190/R
Sony DSC-W190/B
Sony DSC-W370
Sony DSC-W370/G
Sony DSC-W370/R
Sony DSC-W370/S
Sony DSC-S750
Sony DSC-S780
Sony DSC-S950
Sony DSC-S950/B
Sony DSC-S950/P
Sony DSC-S980
Sony DSC-S980/B
Sony DSC-S980/P
Sony MHS-CM5
Sony MHS-CM5/V
Sony MHS-PM1
Sony MHS-PM1/D
Sony MHS-PM1/V
Sony MHS-PM5
Sony MHS-PM5/L
Sony MHS-PM5/P
Sony MHS-PM5/V
Sony MHS-PM5/W
Sony MHS-PM5K
Sony MHS-PM5K/L
Sony MHS-PM5K/P
Sony MHS-PM5K/W
Sony MHS-PM5K/V
Ask a question about this product:
End user clicks here to see more product information from EPM online dealer directly.
Reseller clicks here to request more product information from EPM Battery & Charger Wholesale.
NP-BK1 1000mAh Sony CyberShot DSC-W180 DSC-W190 DSC-S750 DSC-S780 DSC-S950 DSC-980 MHS-PM1 Battery Wholesale, it replaces Sony NP-BK1, NP-FK1.